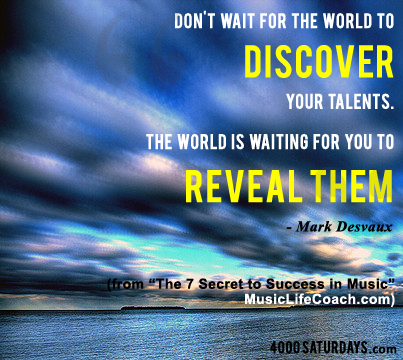 I posted this on my 4000 Saturdays Facebook group, and Andy Mildner asked an excellent question:
"Mark. What is your top tip to help people be brave enough to get up on their stage and show off their talents?"
Good question Andy. Talents lie dormant to the world due to three types of fear:
i) Fear of Criticism
ii) Fear of Failure and
iii) Fear of Rejection
This applies to any talent, but I've been deeply studying fear in musicians as an example of people who have to put their heart and soul out into the world. From the many I have been privileged to coach, I've seen how these fears can paralyse people into inaction. Imagine how different the world would be if Adele had feared putting out her music? It's the same with authors and all creative forms of expression, and is summed up beautifully by J.K Rowling who said
"It is impossible to live without failing at something, unless you live so cautiously that you might as well not have lived at all—in which case, you fail by default."
So my top tip is to remember that fear only exists inside you and not out in the world. When you put something, anything "out there", you are instantly distancing it from the fear within.
(If you are a musician interested in learning more, I've designed an online course which goes into this in more detail, as well as many other areas which will help you unleashed your musical talents: "The 7 Secrets to Success in Music". Authors and Actors? Sign up to the 4000 Saturdays mailing list for some exciting news in the future).